Salamis Bay Conti Resort Hotel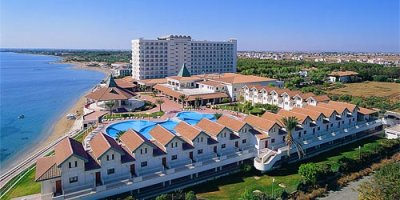 Salamis Bay Conti Resort Hotel : For a luxurious holiday break in North Cyprus, the Salamis Bay Conti Resort Hotel is an ideal choice. An elegant lagoon swimming pool lies at the heart of this comfortable modern hotel, fringed by the golden sands of the Salamis Bay Conti's own private beach.
Casino
Equipped with the latest machines and gaming with the latest technology, we bet playing games in dazzling Salamis Casino glory very much so model luxury car fleet of Mercedes, you carry on Salamis Casino's unique environment. Salamis Casino ancient Salamis Ruins carrying breeze, sculpture and private and spacious architecture consists of relief, free buffet and A la Carte in guests with restaurants to offer a comfortable gaming environment that hosts a pleasant atmosphere, 1 VIP lounges, the latest technology 135 slot machines and 16 live game tables, Texas Hold'em Poker tables, which is connected to all machine Salamis big winning jackpot systems Casino, returning the head of the high-limit and with a wide variety of gaming options gamers.
Live games : American Roulette, Super Stud Poker,
Texas Holdem Poker, Blackjack
Machine games : Cash Fever, Gaminator, Poker, Roulette,
Atronic Games, Bingo, Mega Jack, Horse Racing & Betting,
Slot Mechines