The Grand Hotel Billia in Saint-Vincent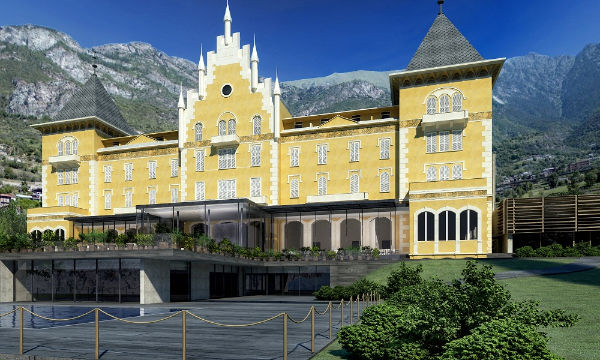 Saint Vincent Resort Casino -Milano-Italia:
The most convenient airports for Saint-Vincent, using the motorways A4 or A5, are the airports of Turin Caselle (86 km), Milan Malpensa (159 km), Milan Linate (186 km) and Geneva (177 km).
Embraced by the highest mountains of Europe emerges the breathtaking scenery of Aosta Valley. Here you can find the superb Saint Vincent with its magnificent Grand Hotel Billia rising picturesquely in the heart of Italian Alps where luxury meets comfort and where modernity meets history and tradition.
Saint-Vincent:Situated at 575 above sea level, Saint-Vincent enjoys a particular microclimate which protects it from sudden big temperature changes, so much so as to be nicknamed the "Riviera of the Alps."
The town developed in a natural basin around an ancient settlement and parish church. About fifty years ago, the reconstruction of the spa and of the original town hall characterised the local architecture; like the restoration of the XII-century Romanesque church.
Connected to the village by a modern funicular, flows the ancient healthy spring, which was discovered in 1770 by a local abbot. The waters have a recognised curative effect and are particularly good for respiratory diseases.
From june 2012 the SPA is renovated: an enlarged and modernized version of the 1960s construction create a new concept of spa in which traditional cures exist alongside well-being and body treatment spaces..